It was the worst of times, it was the terrible of times. What ever side of the two-party fence you are on this election, it's fair to say these are the worst election options our country has ever seen. One might even venture to think we are living in a horror film…wait a minute…unbelievable results, two over the top main characters, similar backgrounds going for the same goal, conspiracy theories, incredibly simplified lines, unbelievable amount of plot holes in their policies…OH MY GOSH, WE'RE LIVING IN AN ELECTION HORROR FILM!!!! Deep breaths people, deep breaths. This means there is hope for America and hope for our world. So if you ever run into Laurence Fishburne…beg him to give you the red pill and save us all. Help us, reader, you're our only hope.
So here's where we stand. On one hand we have a lying, manipulative, rich, entitled, old, interrupting…oh wait, that's both of them. Let me start over. One wants to build a wall, the other wants to grant citizenship. One wants to take guns away, the other wants to unleash the firepower. One blames China, the other blames Russia. One wants to expand healthcare, one wants to completely revamp it. One lives in NYC, the other in upstate NY. Does New York have a monopoly on main party candidates this year? Who sold their soul for this? I want to talk to you. Have you seen Supernatural? There are so many other things you could get ripped to shreds by hell hounds for. Why a Clinton/Drumpf showdown?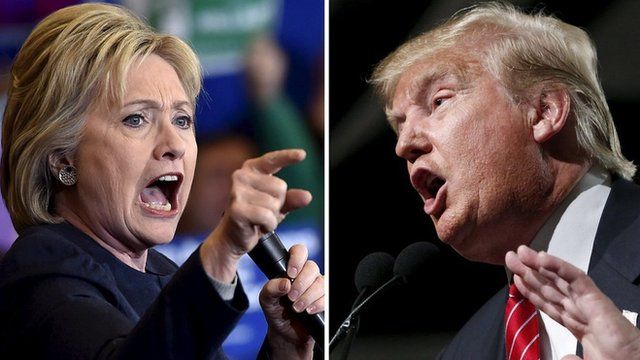 Much like a horror film, this election is fraught with he said she said they said Wikileaks said my opponent is so much worse than me. Each debate just seemed like a bad sequel where most of the plot was the same, they just had costume changes and a different victim. Rest in Peace moderators of each debate. What? They're not dead? Oh, thank goodness…I thought for sure they were hunted down by henchmen when they tried to maintain civil conversation. Silly me, thinking the candidates were only out for themselves and would cut down anyone in their way.
Also like a horror film, the least likely people seem to have come out on top. Seriously though, was no other natural born citizen over 35 who has lived in the United States for the past 14 years available? How many people decided to take their year abroad in 2004? I want to talk to you, too. Why didn't you foresee this electoral apocalypse? Your lack of foresight disturbs me. Voters on both sides have questioned how we could come down to these two. They're both so bad…they even picked estranged twins for running mates. What sort of matrix are we in? Who is tripping enough that the effects are impacting the rest of us? Not cool, dude. Not. Cool.
Who knows…maybe we'll get lucky and an asteroid will strike and we won't have to choose. We'll be under marshal law and we can all be scared for our lives in tangible ways. Instead of being afraid of our government, we can be afraid of everyone we meet. Maybe the decision will go to the House of Representatives and they will make a sane choice. HAHAHAHAHAHAHAHAHAHA lolz, jk. That's not possible this time.
Here's what I propose. Lin-Manuel Miranda seems to know a thing or two about politics. I mean, come on. Would Hamilton really be so impossible to get tickets to if he didn't? Maybe our founding fathers were on to something when they decided to settle everything by a duel. Because you either die a hero, or live long enough to see yourself become the villain (Burr *shakes fist*). And since "everything is legal in New Jersey," here's what we do.
We have the two main candidates face off in a duel, obviously their vice presidents are their seconds, because duh, that's literally the job description. Then while they're busy fighting, we all write in Lin-Manuel as our next president. (Lin-Manuel, if you're reading this, I'm a big fan and I'm sorry to promote you for arguably the most difficult job, but we need you. Help us! Mr. Austin says hi.) Then we can all live happily ever after.
Vote! Election 2016
On possibly the only serious note of this post, we at TNM encourage you to exercise your right to vote and your duty to be an informed voter. Do you research, look into all your options. There are more than just the main two. Joe Exotic, for instance. Happy voting and may the odds be ever in America's favor.